What the Critics Say...
New Musical Express (2/23/91) - (9) - Excellent Plus - "...There is a formula here that basically goes: sparse guitar intro, then BAM! some chunky bass'n'drums to go, followed by a heartfelt chorus chant from [vocalist] Hooton....The Farm have altered externally over the past half-decade but their heart and mind has remained true."
CMJ New Music Report Exclusive (1991)
Formed in Liverpool in the early `80s, this sextet went through numerous lineup changes and various spurts and sputters that would've knocked some people down. Instead, it lifted The Farm even higher than their indie-chart-topping singles, and now the band's released its U.S. debut, Spartacus, an album that is already topping the U.K. charts. Led by a funky, propulsive rhythm section, dual guitar squirmings and Happy Mondays-meets-Primal Scream floating vocals, The Farm combines a street-level ethic, the punk energy of the early `80s, and the ska and soul influences of the 2-Tone label, of which they were big fans. Produced by Suggs (a.k.a. Madness founder Graham McPherson), The Farm cultivates a bumper crop of intriguing and melodious delights. Try these on your palate: "Groovy Train," "Hearts & Minds" (their 1984 debut single), "Don't Let Me Down" and "All Together Now."
Best of The Farm
Hot Gossip (1998)
If you are a FARM fan, then the new album "The Best Of The Farm" from Castle, is a definite must!! The will go down in Pop History as one of the 9's top success stories, during the period 1990 to 1994 they recorded three albums, all for different labels, and enjoyed chart success with no fewer than nine top fifty hit singles including the unforgettable pop anthems "ALL TOGETHER NOW", my personal favourite, and "GROOVY TRAIN". Initially recording for Independent label, Produce, The farm excelled at delivering songs which became an integral part of the UK's fashionable pop/club scene of the time. The Farm's debut album "Spartacus" in 1991 was produced by no other than Suggs. On release it immediately reached No 1 in the UK Album Chart !!! Following, the phenomenal success of "Spartacus" The Farm went onto record their next album, "Love See No Colour" on their own label "Imprint" via Sony Records. The Album delivered some great individual songs. Unfortunately, the album was recorded during a time of musical disagreement in the band, which meant a disjointed album. However, they went on to record, which was to be their final album, "Hulabaloo", for Sire, which some pundits feel was their best album, and was a wonderful high for the band to break up on.
Love See No Colour 7"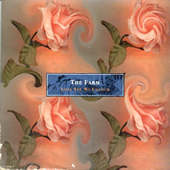 Altogether Now
Poptastic (1990)
After a few weeks with relatively few indie hits coming onto the charts, one of the anthems of that Madchester year made its way onto the bottom end of the top 40. Hailing, of course, not from Manchester but from Liverpool, this was the debut top 40 hit for the Farm, who had nevertheless, I believe, been around as a band for some time previously. Like many of their contemporaries they combined guitar riffs and dance beats, though singer Peter Hooton had a rather firmer, clearer voice compared to the dreamy vocals of the Stone Roses, Happy Mondays and Charlatans. The song was about how people just jump on bandwagons because it's "cool" - hence the title "groovy train" being a corruption of "gravy train" - which might be thought of as ironic given that the Farm were themselves part of a scene, but doubtless they were doing what they wanted to do. It climbed to no.6 making it one of the most successful indie hits even of that year, and their follow-up was even bigger and more well-known, but more of that later...